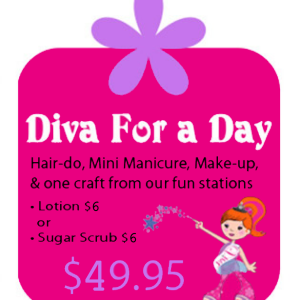 We also offer special weekday discounts on our most popular birthday packages. From Diva Days to Tween Karaoke, Movie Nights and Kid's Workshops. Diva Girlz & Adventure Boyz is the destination for fun any time with our Mobile or In-House venue! Come on over and celebrate with us!
Join us for the ULTIMATE
Diva

Salon Experience!

Your Diva will receive a glass of champagne (lemonade in a fancy pink wine glass) and a craft to do while she waits to be pampered. Diva for the Day includes: a fabulous up-do or hairstyle, light manicure, light makeup, and sparkles to finish off her Diva look. Drop off or stay to enjoy with your Diva!
Add-ons include:
$6 -Body Scrub
$6 -Hand Crafted Shimmery Lotion
$3.50 -Cup Cake
$7- Diva Nail Polish
Diva Girlz and Adventure Boyz will be hosting Mommy & Me, Tween Dance, Karaoke Night, Movie Night, Holiday Parties, Camps, Theater Workshops, and much more! Contact Us today to book your Dream Party!